I'm really not much of a Patrick Marleau fan. He's flashy, a pretty good skater, and has a nice shot. But, he cannot play defense to save his life, has no physical game, and just seems like the exact type of guy who shouldn't have a "C" on his jersey.
That said, his Sharks are in dire need, and they need him to step up and create some offense. Will they? Tough to say. For this though, lets assume they don't. Anything less than a WCF appearance would just have to be considered a failure for the Sharks this season. And given that it would be their third straight failure in the playoffs, you have to imagine that changes would be coming in Shark land.
I personally think, that most GM's are the "bang on their chest" and yell until they get their way type guys. They want "Warriors" and go with their gut instinct more often than not. Simply accepting that you got a bad roll of the dice isn't enough... heads have to roll, and changes have to be made.
The Oilers, in large part thanks to their run, have several guys who would meet the criteria that most GM's would presumably look for. Specifically, Jarret Stoll and Raffi Torres, along with Ethan Moreau and Fernando Pisani. I think Lowe has to make a decision here... we have too many forwards on this team, and someone has to go. Pisani had a very good year all things considered, and is a big part of the room. Moreau likely isn't going anywhere, so that leaves Stoll and Torres; who are both admittedly coming off of a poor year, though the former struggled much more than the latter.
So, Lowe is left with a decision here. He likely has to move two forwards. He's probably considering moving Pitkanen. What can these three get in a package? What teams will be looking at the idea of major changes due to lack of success?
I'd say Atlanta, but they've been raped of assets outside of Kovalchuk, who sells too many jerseys and tickets to be moved. Ditto St. Louis. I think both Buffalo and Anaheim could be looking for shakeups in the near future, but I don't see either team making a deal with the Oilers in the near future. We know Toronto is looking for a change, but again, what do they have that would warrant a package of Torres-Stoll-Pitkanen?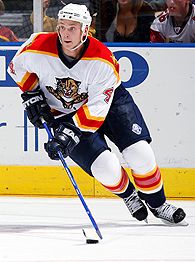 Looking down the line though, there are certainly a few teams that do catch my eye. Florida has missed the playoffs all 3 years since the lockout ended, and Bouwmeester is reportedly again unhappy. Would he considering coming here? Would Florida trade Bouwmeester and a pick for Pitkanen, Torres and Stoll? Should Edmonton?
What about in San Jose, if they don't come back against the Flames? Could Michalek become available for the right price? Or Marleau?
Tampa is into full rebuild mode, but it's hard to imagine that they want to suffer through that when they need to sell tickets. How much would it cost to bring the 1st OV pick to Edmonton? Stoll, Torres, Schremp and Pitkanen? Does that get your Stamkos? Does it make sense on either side?
Nashville looks like they're on their way towards their 4th straight first round exit. Could Weber become available from a GM on a bender after another first round exit?
The Oilers are in a nice position here. Not ideal, but not terrible either. They have a lot of parts, some shiny, some grimy, but a lot of parts. There will be GM's in the coming months who will feel the pull from their owners saying we need to make the playoffs. Even more importantly, there will be GM's who are in the same position that Kevin Lowe was in not too long ago, when Dallas looked ripe for the picking and we crapped the bed and he went on a tirade... we all saw how that turned out for Mike Comrie. There will be changes, and the Oilers, in all likelihood, will have a very good chance of adding a couple of nice players over the Summer without breaking the bank.
I've accepted Souray isn't going anywhere. Neither is Moreau. I pray that Horcoff doesn't, and we all know that Hemsky and Gagner are here for the long haul. What we do moving forward will certainly be interesting, and I'm personally hoping that Lowe is finding out just how available Bouwmeester or that 1st OV pick are from an Oiler POV.