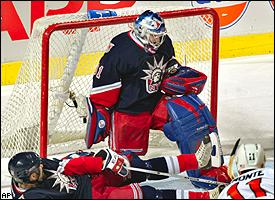 The Montreal, Quebec native was drafted 10th overall back in 2001. Voted as the CHL's top goaltender for the 2000-2001 season.
As an 18 year old, he was pressed into action due to injuries, and managed to stay on his two feet, playing 31 games and posting a .898 SV%.
Did he have a strong future ahead of him?
There are reasons to believe he would have, but unfortunately, we'll never know.
That is because he suffered a significant left shoulder injury during a weight training session. He
pressed a try-out
with the Victoria Salmon Kings of the ECHL - playing with two blockers instead of the conventional glove and blocker combo.
Mirtle
interviewed
Dan Blackburn during this stint. Dan was eager to see how it played out.
Unfortunately, he lasted only 12 games.
Where is this once promising man, now 24,
today
?
His current life includes a home in Dallas, a job in hockey - he's manager of business development for Goaltender Development Institute (GDIhockey.com) - and, somehow, no sorrow in his heart.

"No, it's not bittersweet," Blackburn says. "You know what? I don't really miss it anymore - it's been such a long time. It was a chapter of my life and I'm on to the next. I'm happy for all the guys that do well. It's good to see (Leclaire) having a successful year."

"I don't have any regrets at all about what transpired or the way things happened for me," says Blackburn, who played two full seasons - 2001-02, 2002-03 - for the Blueshirts. "I really enjoy what I do now in the business world."
"From my point of view, I was really fortunate, even though I was only there for a couple of years.

"It really set up the rest of my life for all the things that I want to do, from there on out."

Hurtling himself into life after hockey - buoyed by a reported $6-million insurance payout - Blackburn enrolled at Arizona State University.
He's in good shape. In good health.
And happy.
What else can you ask for?