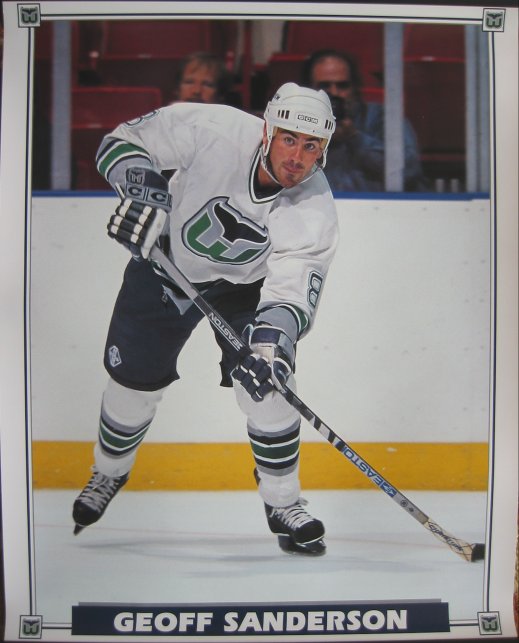 This is Geoff Sanderson. Behind him are two fans and a whole bundle of empty seats.
Empty as in "
Geoff Sanderson had a feeling of emptiness climb upon him, with the realization that Thursday April 03, 2008 may very well be his shot at playing in an NHL game
"
CAREER STATS
1103 GP, 355 goals 700 points.
But declining numbers. From 78 Games played two seasons ago to 58 last year, down to 40 this year. Goals followed a similar trail: 25, 11, 3.
At 36, remarkable is the fact that he's not lost much speed. The 6 time 30+ goal scorer (including 2 seasons with over 40 goals) seems to have lost his scoring touch.
Really?
Difficult to say. His numbers are all over the place (See link above). Absolutely no sense of flow or consistency. For all we know, he very well may pot 15 goals next year. Sanderson was limited to 40 games this season (Healthy Scratch, Back Spasms), posting 3 goals and 10 assists for 13 points. 5 of those points have come in his last 9 games. His last game played was on March 04, 2008 against the Nashville Predators in which he posted a -3 in a 5-1 loss.
Was this his last game as an Edmonton Oiler? As an NHL player?
Does he still badly "
want it
?"
"A throw-in? I don't mind that, at all. I'd like to be under the radar," said Sanderson.

"I was fortunate to sign a two-year contract in Philadelphia. I've seen guys with no options now (Mike Johnson, Jeff O'Neill, Jeff Friesen, all free agents waiting by the phone). I have another year to play," he said.
From that quote, he's exactly not the epitome of confidence. Nuh-uh.
The Oilers won't re-sign him. And there's a good possibility he won't be offered a deal this summer from the 29 other remaining clubs - at least not at a salary Geoff may feel comfortable playing for.
So, the question must be asked - should the Edmonton Oilers give Geoff Sanderson a proper send-off to retirement? Should they let him play on April 03, 2008, game 82 against the Vancouver Canucks? If so, at which teammates expense? Or should this question be answered after Tuesday, when there is a clearer picture of whether the Oilers have a shot at making the playoffs?