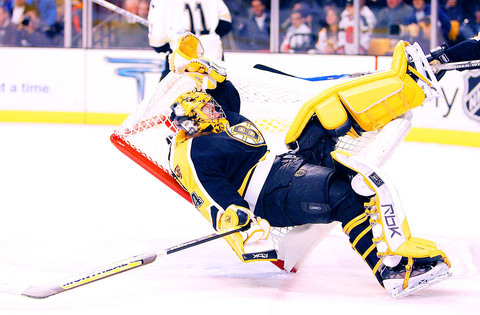 Hannu Toivonen is an interesting goaltender. Drafted in the first round (29th overall) in 2002, he started his professional career with a splash.
He posted a .921 and .932 SV% in the AHL at 20 and 21, and a .914 SV% in 20 games with the Boston Bruins at 22.
Then he fell - for whatever reason. In 2 further stints in the NHL, he posted a GAA of 4.23 and 3.89, and corresponding .875 and .882 SV%. Today he was sent down to the AHL.
Many, including myself wanted Lowe to acquire him this past summer. We were confident that there was no chance his numbers early on in his career were a fluke. Needless to say, he's proving us otherwise.

So What happened to Toivonen?
I generate 3 possibilities:
1) He was indeed playing over his head at 20 and 21
2) Boston rushed him into the NHL when he wasn't mentally ready; confidence and numbers fell
3) In the seasons he was playing well, the sample size was too small to make confident assertions
I'm leaning towards (2) and (3). Confidence is a fragile thing, and goalies tend not to be ready until 23-24. With regards to sample size, we're measuring him on seasons with 36, 54, 20, 18, 27, and 14. Perhaps not large enough to make an analysis.
On a related note, a goaltender that Oiler fans will forever compare Devan Dubnyk to, Marek Schwarz, has been called up to take Toivonen's spot. His .900 SV% is slightly lower than Dubnyk's .903. I expect he'll get murdered playing against men.
Quite simply put, he's just not ready.