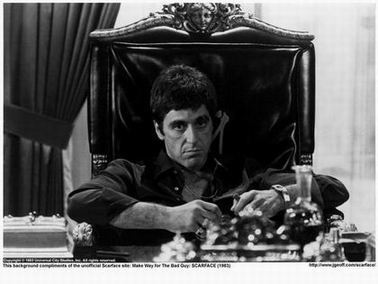 This is Tony Montana. Also known as Scarface.
An ambitious, aggressive, careless, competitive, cocky and relatively young fellow.
However, it was these characteristics that ultimately lead to his death.
Unfortunately, the Oilers GM, Kevin Lowe inherits these very characteristics.
I will illustrate some examples that indicate similarities between the two:
Tony Montana spent '12% of his adjusted gross' on security. However that security failed to bring him results when it mattered. Likewise, Kevin Lowe spent effectively 12% of his payroll on Sheldon Souray - who also failed to deliver results
Tony Montana entered the business with a lack of experience. He saw initial success with Frank, and craved for more quickly ignoring long run costs. He took steps to rise fast in the underworld business, no matter what the consequences of pissing off long term competitors were . Likewise, Kevin Lowe had a strong nucleus of talented young prospects, but the strong desire for short term results this past summer lead to signing an unneeded Sheldon Souray, and pissing off competitors [Regier - Vanek, Burke - Penner] in the process of doing so.

Tony Montana was careless with his mouth when angrily cussing at Alejandro Sosa, instead of discussing in a calm manner. Ultimately, that shot down any chance of forgiveness. Likewise, an emotionally overwhelmed Kevin Lowe went on National TV [HNIC} to proclaim that Ryan Smyth isn't an elite player. On July 1, Smyth never returned the call back.
Tony Montana lost his best business associate - Manny Ribera. Likewise, Kevin Lowe lost assistant [and lawyer] Scott Howson.
Tony Montana questioned if the business was truly worth it. That lead to a self-questioning session in public. VIDEO . Likewise, Kevin Lowe was puzzled in a stream of questions and despair .

I will end this entry with the famous words of an experienced Frank Lopez:
Hey, Tony. Remember when I told you when you first started working for me, the guys that last in this business, are the guys who fly straight. Low-key, quiet. But the guys who want it all, chicas, champagne, flash... they don't last.