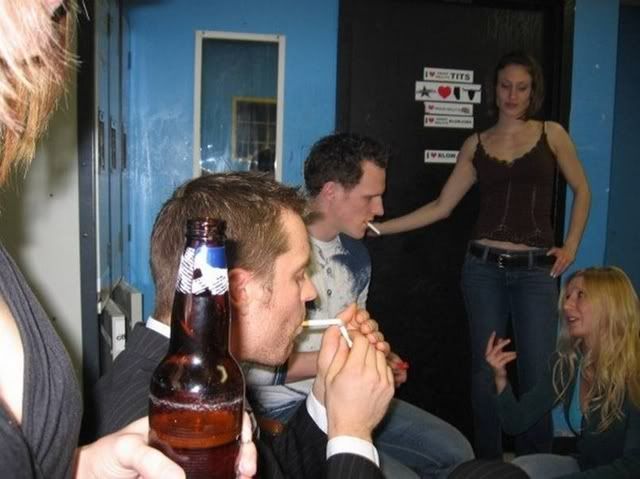 Cheap smokes and cheaper women; the life of a superstar in Calgary. What amazes me about this picture every time I see it, is just how ugly these girls actually are. That said, there's a bit more to be said about the Flames than questioning the personal life choices of guys like Phaneuf and Kiprusoff. I mean, everyone has had a few too many at one time or another and at least considered taking home a goal who could be described as having a "good personality" at best. It's a fact of life, and I suppose no amount of money changes the fact that booze is a good way to come up with a lot of bad ideas in a short period of time.
That said, a teams General Manager shouldn't be drinking while he's on the job; so I'm not quite sure that we can fully understand what exactly Sutter is thinking. He has traded away quality defenseman signed to good contracts forever, and it's finally starting to catch up with him as he's now paying a guy like Aucoin $4,000,000 to take up cap space that he doesn't have. He's continually managed to get guys to sign to bargain deals, with Regehr and Iginla leading that train. The problem being, he gets a few good deals, pisses away his draft picks and continually chases after reclamation projects instead of legitimate players who can contribute at both ends. This lead to Alex Tanguay being a scape goat for not turning Wayne Primeau into an actual hockey player.
Calgary has made a lot of moves this offseason. Tanguay is gone, and replaced by no one. Huselius was replaced by more expensive Cammalleri. Conroy was signed to a bargain price, several guys were waived but have yet to be moved (Nilson, Warrener, Erikson). Calgary is sitting nearly $2,500,000 over the cap assuming Giordano only got $1,000,000. Nolan was downgraded to a broken Bertuzzi. Glencross proved that is, in fact, a flake. Bourque was brought in to provide "offense." Yelle departed and Langkow took a hometown discount.
What does this mean?
Well, as far as I can see, Calgary lost their 2nd best forward in Tanguay. Their top 6 has gone from:
Iginla
Tanguay
Langkow
Huselius
Lombardi
Nolan
To:
Iginla
Langkow
Cammalleri
Lombardi
Bertuzzi
Conroy
Sorry.... but anyway you slice that, that is a massive downgrade.
Compounding matters is that they lost 2 of their top 4 PK'ers and 4 of their top 7 PK'ers up front
. Glencross can't kill penalties. Cammalleri can't kill penalties. Bertuzzi can't kill penalties. Andre Roy can certainly spend a lot of time in the box for being a general idiot... but he can't kill penalties either. Of their core (Iginla - Langkow - Regehr - Phaneuf - Kiprusoff), only Phaneuf and Regehr are on the right side of 30 and only Phaneuf has any real reason to believe he can improve.*
So... what's left to happen? The PP, that was middling last season, will likely be middling again. The mediocre PK will likely border on terrible. At evens, they've likely improved marginally in replacing Eriksson with Giordano on the backend, but again that'll be canceled out when rumoured speculation that Aucoin is dealt takes place. Up front, they lost their 2nd best forward at 5v5, and didn't attempt to replace him. Even if their depth is better (very, very, suspect), they've declined there as well.
*This however, leads me to the one wild card that could save the Flames. Kiprusoff had a horrendous year last season. After several years as an elite goaltender, he fell right off the map. Was it just a bad year? Or is he now just another guy? That is the only possible saving grace for the Flames in my eyes...
Unless someone can remind me of any other reason as to why the Flames aren't significantly worse this season while teams like Vancouver (assuming they get Sundin), Edmonton, Chicago and Phoenix have all taken steps forward?