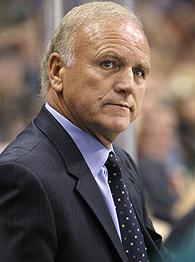 What an idiot.
His team has only won 2 in their last 10. They're in LAST PLACE in the division right now. He can't develop youth (Koivu? Who the **** is that anyway?). His team just can't win the big game. Again - LAST PLACE IN THE DIVISION! What the **** is wrong with this team? Clearly he's lost the dressing room. He overplays pluggers all over the place. Andrew Brunette on the PP? WTF? That's not even getting into Benoit Pouliot. Who the hell does he think he is, Brunette? I mean, the guy has 5 ****ing goals this year and he keeps getting ice time.
This is just unforgivable.
As a closet Wild fan, I am beyond disgusted. If this team had a real coach, one who could coach youth and fire up the troops while playing a system I can understand while drinking a 6 pack... well THEN they would be leading the division.
.....
Now, how many of you would agree with that?
... now, go back, and sub the word "Lemaire" for "MacT" and "Wild" for "Oilers."
I'm not saying, but I'm just saying.