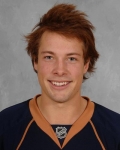 "He's soft." (Calgarypuck.com)
"He's a perimeter player." (Pierre McGuire)
"He's Rob Schremp part deux, minus the skating." (PunjabiOil)
Yet, despite that, he's been a PPG player in the AHL
36 9 24 33 -4 in 2005-2006
80 21 60 81 -1 in 2006-2007
The above figures includes playoffs.
He's more of a playmaker than a goalscorer.
Points however, don't tell the whole story. Will he be an effective player that will contribute to winning? Will he be at least average in his own end? Will he be effective on the PP in the NHL level.
Can he become a Gomez?
Or will his career path be similar to
Valerie Bure
(who also put up numbers in the AHL)?
My other question is, when was the last Oiler prospect to hit the PPG mark?
Funny thing, Martin St. Pierre is tearing it up in the AHL. He's at a 1.52 PPG mark (99 in 65). That's what happens when you penny pinch for an AHL franchise.